National Record Store Day
has made a bold move standing up against the huge music store chains with performances and sales throughout the American community of retailers two years in a row now. It was a day meant to re-affirm the local emphasis in communities that need reminders of why supporting local shops is important. SLUG sent me to MC the Record Store Day (Metal Stage) at the Graywhale in Ogden and it was definitely worth the trip. The store staff were great and co-owners Jon and Dustin helped make the event a smooth and eventful time for the 6 bands, with a last minute 7th addition, even.
Check out the links under the photos for the websites of the bands and have fun hearing what you missed, and what big bands are coming up in the Utah hard rock scene.
Separation of Self double shred!
Separation of Self could have done a lackluster job with their set but they set the tone very well for the day by coming out fierce and heavy. The double guitar solos, as you can see above, were very efficient and masterfully done. Definitely worth the cost of admission: free.
Pilot this plane down
Pilot This Plane Down were heavy as fuck. I really enjoyed the way these guys broke it down. They fondly reminded me of the kind of music I used to play in a local
band
. Their music was one of the more notable in the lineup of 7 bands. They would attack then let up and then slip some slower songs in the repetoire that kept things interesting, unlike some of the other bands of this genre.
And Embers Rise
No comment.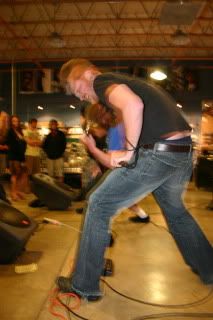 Massacre at the Wake
Props for two things immediately go to the guitarist, one, for his choice in men's attire (SLUG shirt), and, two, to the awesome showmanship of this group of musicians. The word "metal" comes to mind when I think of this group now.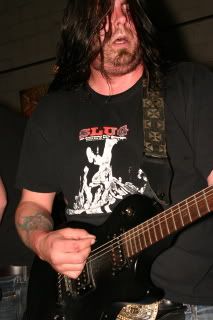 Massacre at the Wake
(peep the SLUG shirt)
Jon of Graywhale thanks the bands
Birdeater
Gaza performs
Birdeater, as usual, tore it up on stage. Almost literally as I'm sure some of their fans suffered from extreme head cracking due to the vicious way they were throwing their noggins around. The same things can be said about
Gaza
though, as this group, shares a lot of similarity, in terms of style. As did Iota the band that played before Gaza. The incestuous nature of these groups, in terms of swapping of members, doesn't detract though. It just helps refine the sound of this particular slice of the scene. Thanks go to the Graywhale stores, SLUG magazine and the bands/fans that showed up to support National Record Store day.