Weekends like this last one come along only once every September and they should be celebrated. Club Sound hosted Sea Wolf on Friday and Perez Hilton Presents on Saturday. I'm not a fan at all of anything having to do with Perez Hilton (and despise him, really) so I fortunately did not find out he was hosting a tour until I was at the venue and anxiously awaiting Ladyhawke's arrival Saturday night.




Sea Wolf was really a grand ol time. I missed the first few songs and was miffed about possibly not hearing "You're a Wolf," one of my favorites from Alex Brown Church, but fortunately the last song of the encore was that track. I left sated and happy. I didn't have a camera that night so I missed out on taking photos to prove I was there. Sorry. I can tell you that the band was comprised of six people on instruments ranging from the cello to a xylophone. Bass, guitar, synthsizers, drums, lead guitar, cello and a few nicely chosen shakers rounded out the instruments that made a richly layered wall of sound in Club Sound. The music is "indie" with some folk elements thrown in, something that could be done badly, but was done very well on Friday. By the way, Sea Wolf's latest Dangerbird release, White Water, White Bloom dropped September 22nd. Check out "Turn the Dirt Over" from that to dig the style.

Fast forward 24 hours and I was in the same spot but to a much smaller crowd (going from a few hundred Friday to 40 Saturday). I think other people caught word of the namesake for the tour because nothing else could explain the poor turnout for one of New Zealand's best performers in Ladyhawke's Phillipa "Pip" Brown. Her backing band was very on point and the opener I caught, NY's Semi Precious Weapons, did an amazing job of putting on one of the most energetic live shows I have ever witnessed. Guitarist Stevy Pyne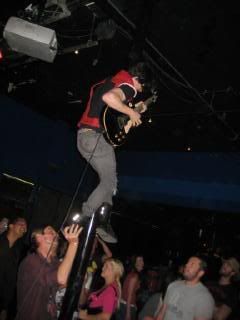 found himself up a post playing guitar and straddling singer
Justin Tranter in a lewd manner that made me want to call some authorities or the nearest bishop I could find. It was that sensational. And that rockstar-eqsue. This band has mega-fame written all over them. I don't usually say such things, but their blend of glam-pop-rock is something that immediately grabs at the heart of the jaded mainstream music listener. Every band member that wasn't stuck behind a drum kit managed to carouse offstage somehow with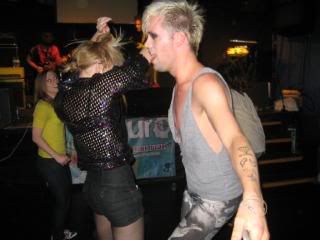 Tranter doing a series of cartwheels in his high-heeled boots (amazing!), bassist Cole White a series of violent pelvic thrusts deep in the audience, and Pyne laying on his back executing the spiraling 360's running guitar move on top of his pole-scaling antics. It was unbelievable—enough so that I'm devoting more space to them than I will Ladyhawke. Semi Precious Weapons will be in Utah opening for The Sounds on October 30 at In The Venue. Check out the insanity then, dancerock fans.



Ladyhawke|| Phillipa 'Pip' Brown
Ladyhawke was really engaging. I was surprised to find that she had never been to our little state and I hope the dismal crowd turnout won't stop her from coming again. I blame Perez Hilton for that because Ladyhawke did their best.

I overheard a guy explaining the following to the door girl at the venue and I will borrow his words to describe the performance: "They're like an 80's snyth pop band." That pretty much covers it except Ladyhawke utilizes better lyrics and a female lead singer (dressed like a hipster) playing a sunburst-patterned electric guitar along with occasional synths. Check out any of her tracks (I recommend "Magic") if you're curious and enjoy them if you're so inclined.

Can't wait until next September when we can do this all again. Til that time…
Photos: